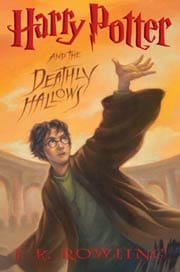 Josh and I finished the last Harry Potter book last night. Wow is all I have to say. I won't ruin it for any of you who are still reading - so no spoilers here! OH! and if you haven't read the book yet DO NOT read wikipedia's entry on it - they totally have the whole plot outlined! man!
Josh and I got to Hastings a little around 11 PM on Friday night. As we walked in, I whispered, "Let's walk around first and laugh at people!" I guess I didn't feel as nerdy if I wasn't dressed up in costume. We walked around and saw the people dressed up in costume. We saw Luna Lovegood, Harry Potter, Mad Eye Moody, Cho Chang, Hagrid, and somebody dressed as some sorta insect-type thing. Not sure what that was about. Oh, and we saw Darth Vader too! Random. There were a lot of people dressed up as witches or wizards (in robes and hats). We ran into one couple we know that wasn't buying the book, but just came so they could get dressed up. Interesting is all I have to say. ha!
We left with the book close to 1 AM I think and read a little that night. Then for the rest of the weekend, when we were together and at home (or in the car or while Josh was changing the oil in the truck), we read. We took turns out loud and read as fast as our mouths could go. It was such an intense book and we flew through it so fast. I think I'll enjoy it much better on my second reading, but I still really liked it. I was surprised on some parts and some parts I figured out. Every once in awhile, we would stop reading and discuss our current theories. We had a lot of fun. We'll miss reading those books together. Sigh.